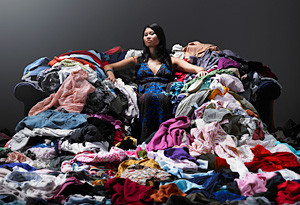 A shopping addiction is not necessarily what it seems. To an observer, it simply seems like compulsive, frivolous behavior; a person extending their resources beyond their means. These things are part of a shopping addiction, but the underlying cause of a shopping addiction is a feeling of emptiness. This feeling of emptiness may have come from a number of adverse stimuli, but it is always something that has worked its way into a person's subconsciousness and has found a place to fester there. A person acting out in a shopping addiction does not love buying things as much as they think they do. What they like is the temporary feeling of filling the hole inside them.
Because of the adverse experience or experiences the shopping addict went through, they were thrown off course for a chance at good mental health. Negative events in a person's life, particularly in their early developmental years, need to be dealt with right away by a responsible party, usually the person's parents. The young person who went through the adverse experience needs help processing it by a parent or a counselor so that they do not develop unhealthy thought or behavior patterns. Sadly, the need for this is often overlooked and the young person veers off from good mental health. This type of thing can happen repeatedly to a person, twisting and bending their mental health ever further. So what is a mere annoyance to someone observing a shopping addict, is actually a deeply ingrained, troubled behavior on the part of the addict.
A shopping addiction is simply a way that a person seeks to bring themselves comfort. Typically, they have long lost conscious touch with what initially caused their addiction and are simply acting on instinct. They have no intention of frustrating the people in their lives or of damaging their personal finances or of cluttering up their space. All they know is that shopping temporarily relieves the burning ache of emptiness so they return to it again and again and again.